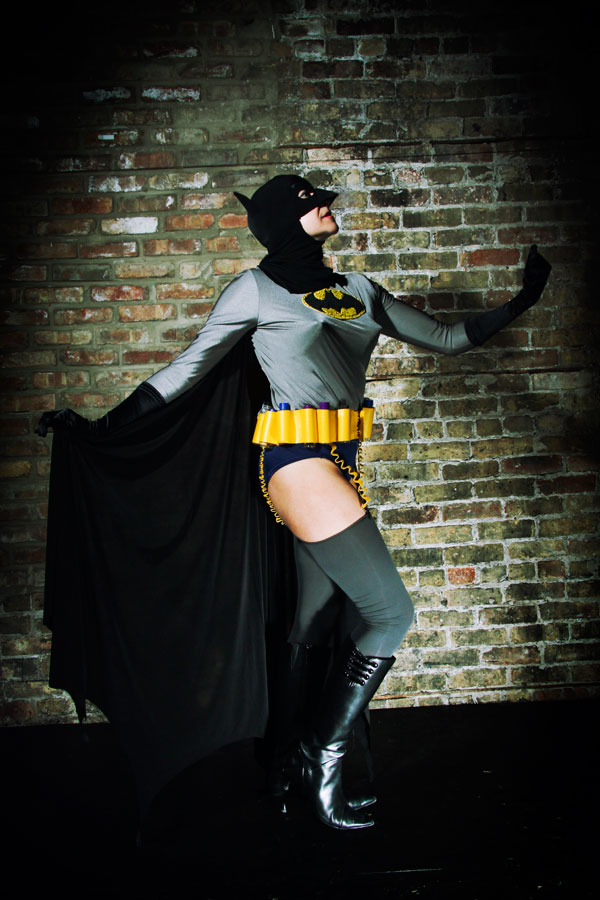 London Derriere as 1960's Batman
Photo by K. Leo
This week, I was invited to review a show called...
Superboobs
.
The title itself prompted me to believe that it would make for a good girls night out. I gathered two good friends who, like me, already know how super boobs can be having each breastfed two kids - to come with me for some laughs. The theater - Gorilla Tango -
at
1919 North Milwaukee Avenue,
is just a stone's throw from my home. And midway between the two is Margie's Candies (on the corner of Armitage/Milwaukee/Western), one of the best ice cream parlours in the city, so this is also the perfect excuse for a turtle sundae.
Superboobs bills itself as a Superhero Burlesque Adventure. All the top comic heros are brought to life - from Iron Man to Wolverine - by a hilariously sexy troupe of women. When the Joker and Jester band together to entrap superheros, the triumph of good vs. evil in the world is sent into a tailspin. If you've ever wondered what would happen if Superman, Iron Man, Wolverine and Batman, all actually male impersonators, were held captive in a closet, here's your chance to find out.
Burlesque brings out the fun in sexiness - there is no outright nudity, no fake boobs, no porno stylings. Superboobs is Chicago theater at it's most kooky best. And the smaller venue, Gorilla Tango Theater, led to a cozy atmosphere that encouraged audience participation and laughs. It you want a taste of the burlesque, in addition to Superboobs, there are a ton of other fun-sounding shows coming up at Gorilla Tango, including Boobs and Goombas: a Supermario Burlesque.
And if you're really intrigued by Burlesque - why not consider taking some Burlesque classes? A studio opened up in my neck of the woods -

Vaudezilla

(love that name!) where you can learn to shake and shimmy and

definitively

let go of any body image issues you've ever had!